Located on one of the most beautiful beaches in the world, "Emerald Belle" rests along Old Scenic Highway 98 in the heart of Miramar Beach with 5,500 sq feet of private beach access. On the first floor, you'll find the main living area, which sports a full kitchen and dining area complete with a marvelous view of the Gulf Coast. The expansive patio deck just off the living room affords some of the best views the area can offer. The two second floor bedrooms share a balcony that overlooks the sand and surf, and the third floor of this home has the feel of a small, beachside apartment. Here, you'll find an expansive bedroom area as well as a separate living area complete with 2 flat screen TV's and even a kitchenette with additional bar, perfect for concocting that special nightcap.
This home participates in our Complete Clean Linens program. This means that you may enjoy plush, king-size pillows on every bed and rest easy with the knowledge that ALL bedding is laundered after each and every guest checkout. With this in mind, please be aware that comforters and other bedding may differ from those pictured.
SLEEPING ARRANGEMENTS (SLEEPS 16):
- Living Room, First Floor: Queen Sleeper Sofa, Half Bath
- Guest Bedroom, Second Floor: King Bed, Private Bath with Tub/Shower Combo and Dual Vanities
- Guest Bedroom, Second Floor: King Bed, 2 Twin Beds, Private Bath with Tub/Shower Combo and Dual Vanities
- Master Suite, Third Floor: King Bed, Full over Full Bunk Bed) and Queen Sleeper Sofa, Private Bath with Dual Vanities and a Spacious Shower Featuring Two Deluxe Shower Heads and a Tile Bench
HOME HIGHLIGHTS:
- Gas grill on patio
- Complimentary beach service that includes 4 beach chairs and 2 beach umbrellas
- Flat Screen TV in all bedrooms
- Additonal living area in master bedroom is equipped with a flat screen with DVD player and USB Hub that allows for any gaming system to connect should guests wish to bring their own gaming system.
- 5,500 Sq feet of PRIVATE beach access
- Complete Clean Linen Participant - ALL linens, including comforters, laundered upon every checkout
Rate Table
Daily
Weekly
Apr 19th, 2014 - Apr 25th, 2014
$570
$3,675
Apr 26th, 2014 - May 16th, 2014
$515
$3,325
May 17th, 2014 - May 23rd, 2014
$695
$4,500
May 24th, 2014 - May 30th, 2014
-
$5,775
May 31st, 2014 - Jun 6th, 2014
-
$5,250
Jun 7th, 2014 - Jun 20th, 2014
-
$6,075
Jun 21st, 2014 - Jun 27th, 2014
-
$6,375
Jun 28th, 2014 - Jul 4th, 2014
-
$6,700
Jul 5th, 2014 - Jul 25th, 2014
-
$6,075
Jul 26th, 2014 - Aug 1st, 2014
-
$5,250
Aug 2nd, 2014 - Aug 8th, 2014
-
$4,500
Aug 9th, 2014 - Aug 15th, 2014
-
$3,875
Aug 16th, 2014 - Aug 22nd, 2014
$565
$3,650
Aug 23rd, 2014 - Sep 5th, 2014
$565
$3,650
Sep 6th, 2014 - Oct 17th, 2014
$470
$3,050
Oct 18th, 2014 - Nov 21st, 2014
$375
$2,425
Nov 22nd, 2014 - Nov 28th, 2014
$455
$2,950
Nov 29th, 2014 - Dec 19th, 2014
$375
$2,425
Dec 20th, 2014 - Jan 2nd, 2015
$455
$2,950
Rates do not include applicable tax and fees.
3 Bedrooms
3 ½ Baths
Max Occupancy: 16
Miramar Beach
House
Balcony
Beach Chairs & Umbrella(s)
Cable TV
Coffee Maker
DVD Player
Gas Grill
Golf Course
Gulf Front

Gulf View
Microwave
Near Beach
Nearby ATM
Nearby Bank
Nearby Beach
Nearby Grocery
Nearby Medical Services
Nearby Post Office
On Beach
Pack n Play
Toaster
Washer & Dryer
Wireless Internet
Average Visitor Rating:
April 2014 Stay
Gina Veller
04/20/2014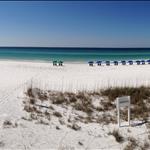 We just spent 6 nights at the Emerald Belle on Miramar Beach. The accommodations were wonderful and we had a fantastic time! Each of our 3 families had plenty of space, the house was well equipped with everything we needed, and the beachfront location was perfect. Even though it was spring break week, you wouldn't have known it. This is a very family friendly home, beach, and town. We plan to return next year too!!!
Property Manager Response:
We are so glad to hear that you enjoyed your stay at this fabulous home! It's positively wonderful to hear that you had everything you needed and that you had a good time. We can't wait to have you back!
March 2014 Stay
Jackie Goss
03/28/2014
We had a wonderful time. Your house is perfect in everyway; location, ammenities, restaurants. Love the beach front deck. Watching the sunset to waking up in the morning with a cup of coffee was gorgeous. The kids were very pleased and we hope to rent your house again. The rooms were big and cozy. Everything was available to us. Thank you so much for your hospitality and services.
Property Manager Response:
This is such a wonderful home that is well-loved by its owners and it shows. We are so glad that you enjoyed your stay and hope you'll come back and stay with us again soon!
October 2013 Stay
Nancy Weaver
11/04/2013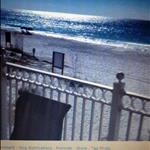 We just got home from staying a week at the Emerald Belle!!!! All i can say is WOW!!! From the moment we stepped foot in the house we knew we had found paradise!!! This is the most beautiful home ever! From the views of the ocean to the decor throughout the house, we couldnt have been happier!!! Our daughters, son in law, granddaughter and hopefully soon to be new son in law all came to be with us for a week of making priceless memories!!!! And that we did!!!! It even rained a couple of days but no one cared bc of where we were! Emerald Belle has state if the art appliances which were perfect for our son in law the chef! The outdoor deck was perfect for eating breakfast each morning and late night glass of wine watching the sunset! We have stayed at other homes on the beach in destin, but nithing compares to this!!!! In fact we are already booking the house for nect year and we have only been home 2 days!!! It was like staying in a 5 star hotel!!! And the beds were awesome too!!! Only 363 days til we go
Property Manager Response:
WOW!!!!!! What an awesome review...thank you so much for taking the time to review this amazing home. We are thrilled to know that it was everything you had hoped for and more. We strive to hear this from all of our guest. We can't wait to have you back next year to make even more memories to last a lifetime!
October 2013 Stay
Natalie Crane
10/19/2013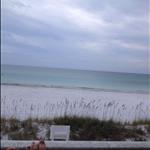 Had a wonderful weekend, the house was amazing and beautiful with the beach in america! Me and my wife got married on the beach at sunset and it was perfect!
Property Manager Response:
CONGRATULATIONS! So glad you were able to share your special day with us. We can't wait to see you back for your anniversary!
October 2013 Stay
Bill Hagy
10/10/2013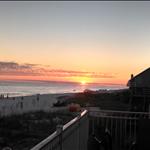 It has been another great week on the gulf at the Emerald Bell.Looking foward to next year!!
Property Manager Response:
We are looking forward to next year as well....Thanks for sharing this lovely photo! We honestly have the best sunsets in the world here.
March 2013 vacation
Diane Martin
06/07/2013
this was sunset one night from the back porch! One of our favourite apots in the world! We had a great Spring Break visit and are xurrently heading to the house right now! So ready to relax! Thanks for aharing your home with us! The Martins
Property Manager Response:
What a beautiful shot! We are so glad to have you guys back...thanks again as always!
June 2013 Vacation
Carolyn Smith
06/06/2013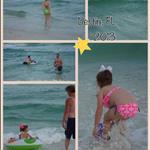 I had a great time with all my family. We stayed at the emerald bell! Nice home and dont want leave.
Property Manager Response:
Well you must come back ASAP! We miss you already...
May 2013 Vacation
Andrew Boothe
05/31/2013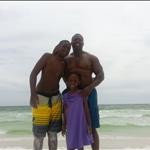 One of our best family vacation. Your home was exactly like they were in the pictures. We will love to make this home, our vacation destination every year. Thanks for a wonderful time.
Property Manager Response:
Thank you for staying with us please come back as soon as you can!
April 2013 Wedding/Honeymoon Vacation
Devin Guyton
04/24/2013
We absolutely loved everything about the Emerald Belle.. The pics did not do it justice! The view is absolutely amazing!! It is in a very central location to everything..less than a mile to Pompano Joes and the Crab Trap!! Yummy!! We had our wedding right off the back deck and it was everything we wanted and more. This is definitely an awesome house and we would highly recommend to anyone!!!! Micah & Devin
Property Manager Response:
You guys are beautiful!!! We are thrilled you all decided to share such an awesome experience at this home and with us here at 360 Blue. We hope you will come back for your anniversaries and of course family trips in the future! We can't wait to have you back!
February 2013 Vacation
Donna Relay
02/10/2013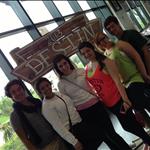 Having a GREAT trip. Next year well come for a longer stay. Great for the kids and adults!! The house is fabulous and cozy. Couldn't be better!! Thanks for having us!!
Property Manager Response:
Thank you so much for your fantastic review and photo! We love to see all those smiling faces. Please definitely come back when you can stay longer! We miss you already!
October, 2012 Vacation
Nicolas Snyder
10/31/2012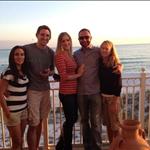 Absolutely amazing in every way. Friendly and more than helpful staff. Beautiful home. What you see in the pictures is what you get! Couldn't ask for anything more. I got engaged on this trip. We will be returning for the wedding next year!
Property Manager Response:
Thank you so much for the fantastic review!!! We are so glad to know that your vacation was all that you hoped for. OH! and What a great looking group....we hope to have each and every one of you back ASAP!
Fill out this form and press the "Send Request" button to receive more information about this property or 360 Blue, LLC.

First Name:
Last Name:
Email:
Phone:
Arrival Date:
Departure Date:
Adults:
Children:
Comments: