Find relaxation within this gated community. You are only steps away from the amazing pool featuring waterfalls, spa, and wading pool. Ready for some beach time? Private beach access is located within 100 yards, just past Crabby Steve's that serves food and beverages. High Pointe also offers tennis and a children's playground.
SLEEPING ARRANGEMENTS (SLEEPS 10):
- Master Bedroom: King Bed, Private Bathroom With Walk-In Shower and Garden Tub
- Guest Bedroom: King Bed, Private Bathroom With Shower/Tub Combo
- Guest Bedroom: Two Full Beds, Shared Bathroom With Shower/Tub Combo
- Living Room: Queen Sleeper Sofa
UNIT HIGHLIGHTS:
- Seating for 6 at table and 4 at bar
- Flat screen TVs/DVDs
- Media Packages: Sports and Information Digital Pack and Digital Premium Starz/Encore Group
- Patio with 2 chaise lounge and 2 rockers
- Electric Range
- Private Patios for Master Bedroom and King Guest
- Extremely well maintained
- Corner first floor unit
- High speed wireless internet
- Complete Clean Linen Participant - ALL linens, including comforters, laundered upon every checkout
Rate Table
Daily
Weekly
Aug 23rd, 2014 - Sep 5th, 2014
$310
$2,000
Sep 6th, 2014 - Oct 17th, 2014
$270
$1,725
Oct 18th, 2014 - Nov 21st, 2014
$180
$1,150
Nov 22nd, 2014 - Nov 28th, 2014
$260
$1,675
Nov 29th, 2014 - Dec 19th, 2014
$180
$1,150
Dec 20th, 2014 - Jan 2nd, 2015
$260
$1,675
Feb 28th, 2015 - Mar 6th, 2015
$265
$1,700
Mar 7th, 2015 - Mar 13th, 2015
-
$3,050
Rates do not include applicable tax and fees.
3 Bedrooms
3 Baths
Max Occupancy: 10
Seacrest Beach
House
Cable TV
Coffee Maker
DVD Player
Golf Course
Gulf Front

Gulf View
Microwave
Near Beach
Nearby Beach
On Beach
Pack n Play
Phone
Shared Pool
Toaster
Washer & Dryer
Wireless Internet
Average Visitor Rating:
July 2014 Stay
Krstina Stahel
07/27/2014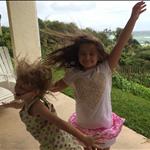 We had a great week! Loved the condo and intend to stay there again! The only request is would have is that there are beach chairs included in price. I have stayed at 2 different condos in the past 4 years and they were always included. Other than that it was amazing and so great! Loved it & so beautiful!!
Property Manager Response:
Oh wow! This photo! If one were to capture the summer fun in one photo, this would be the one! Thank you so much for choosing 360 Blue for your summer vacation and for taking a moment to share your experience. We are so thrilled to hear that you enjoyed the condo and your stay. Sorry about the mix up with the chairs. Each High Pointe unit used to come with complimentary beach chair set up, then the HOA changed it so that only owners were permitted to get the complimentary beach chair setup. We will do some digging into how possible it is to do beach chairs here though. We hope to see you back at the beach soon!
Perfect week at Seacrest!
Ashley Busbee
07/21/2014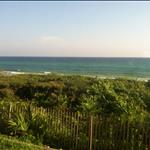 Our family of 5 had a great week at the beach! We have stayed in both the Sandestin and Seagrove beach areas, and found that Seacrest is now our very favorite. The Condo had beautiful views, was furnished well & comfortable, and I loved the modern style. The uncrowded beach was a nice surprise, and we often had our own private section of the large pool. Crabby Steve's was perfect for lunch and drinks! We usually try different condos each summer but High Pointe 11-E will be our first choice for next year. Thank you! (The 360 Blue App was very helpful!)
Property Manager Response:
This photo simply oozes serenity. It will make the perfect desktop wallpaper for your computer at home. That way, it's there whenever you need a little beach in your life. The view from this condo truly is nothing short of breathtaking. We are so happy to hear that you got the beach escape you deserve, and we would love to have you back next year!
July 2014 Stay
Carmel Lakhani
07/12/2014
We loved our vacation to High Point in Seacrest Beach. The ocean was clear the majority of the week, and the weather was perfect. We enjoyed the pool and spa just as much. We have been to High Point 2 years in a row and love it. Our condo was very nice with an ocean view. The updated decor was beautiful. There were several broken locks and other minor issues with the condo during our stay but maintenance came quickly. We also think Seacrest and the rest of the area need to be encouraged to recycle which is our only major complaint about the area. High Point 11E is a wonderful beach getaway. Very enjoyable! Thanks!
Property Manager Response:
The water looks perfect in this photo! We're so glad you decided to come back and stay at this awesome condo. That view truly is unbeatable! We are glad to hear that you enjoyed the many updates. We know the owners put a lot of care into their selections. We are sorry for the minor issues you experienced during your stay, but we are glad we were able to quickly resolve these and get your vacation back on track. Thank you so much for choosing 360 Blue. See you next year!
May 2014 Stay
Kristine Hutcheson
05/11/2014
What an amazing week! Stunning weather and beach condo! The location, amentities and decor were were absolutely perfect. We will be back soon!
Property Manager Response:
We are so glad that you enjoyed your stay at this stunning condo. You are absolutely right, this place is gorgeous from the view to the decor, and not a detail was missed. Add in the amazing location and you have the perfect setting for a beach vacation to remember. We can't wait to have you back soon!
April 2014 Stay
Dana Maier
04/29/2014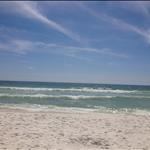 Thanks for an amazing week! The updates to the condo were fabulous. Sunshine and Crabby Steve's made for a great week and many memories! Be back next year!!
Property Manager Response:
Beautiful photo! Looking at that should put anyone at ease. Hopefully, you got some good shots to look at any time you need a little dash of warmth and relaxation... maybe as a desktop wallpaper? We're happy to hear that you enjoyed your stay and look forward to having you back soon!
February 2014 Stay
Michael Abla
02/27/2014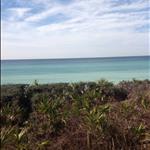 We had a wonderful time and definately recommend it and we'll be back again. The condo is gorgeous and very stylish. Weather was good even for the off season we had two very nice sunny days and a couple rainy days which we spent in shopping mall and around town. For the fishermen out there, we caught and released two large bull reds fish right off the surf yesterday measuring over 35", awesome! Thank you 360 and great App btw.
Property Manager Response:
The owner's of this condo just had the interior completely redone prior to your stay, and you're right, it is stunning. Combine this stylish interior with that amazing view, and you've got a certain wow factor that is not soon forgotten. We are so glad you enjoyed your stay and that you got a chance to drop a line in area waters - the fishing here certainly can't be beat!
late year getaway
Robert Arnold
12/30/2013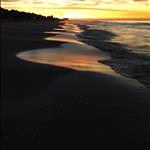 wunderbar... gracious beauty with solitude and peaceful rest.
Property Manager Response:
This photo is amazing thank you so much for sharing!
June 2013 Vacation
Shelly Whitekiller
06/06/2013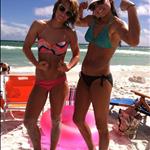 We had a wonderful time! The condo was great the location was so convenient, none of us want to go home but we will be back!
Property Manager Response:
Awesome photo!!! We promise to leave things just the way you left them for your return.
Fill out this form and press the "Send Request" button to receive more information about this property or 360 Blue, LLC.

First Name:
Last Name:
Email:
Phone:
Arrival Date:
Departure Date:
Adults:
Children:
Comments: