Incredible 5 bedroom / 5.5 Bath Masterpiece in WaterSound with separate detached carriage house, private heated plunge pool, 2 golf carts, private baths for each room, gourmet kitchen and incredibly beautiful interior design. Spectacular views of the Gulf and all of WaterSound from the crow's nest. Located about 250 yards to the pools (DuneSider Grill serving lunch poolside in the summer season) and beach, this is one of the nicest homes in WaterSound in an ideal location!
Take a dip in your private pool w/heater, then jump into one of the two golf carts that come with the house free of charge or the 5 bikes provided. This makes it easy for everyone to head to the beach and enjoy the free kayak or to just tour the neighborhood.
SLEEPING ARRANGEMENTS (SLEEPS 12):
- Master Bedroom, First Floor: King Bed, Private Bathroom With Shower Only
- Guest Bedroom, Second Floor: Two sets of Twin Over Twin Bunk Beds Each With Own TV, Private Bathroom With Shower Only
- Guest Bedroom, Second Floor: Queen Bed, Private Bathroom With Shower/Tub Combo
- Master Bedroom, Second Floor: King Bed, Private Bathroom With Shower Only
- Detached Carriage House: King Bed, Private Bathroom With Shower, Kitchenette, Dishwasher and Refrigerator/Freezer Combo
HOME HIGHLIGHTS:
- Private pool - Pool heating is available October 1st through May 1st for an additional fee of $25 per day. Pool will be heated to 83 degrees and cannot be changed.
- Homes provides use of 2 golf carts
- Surround sound in the living room with HDTV
- Overlooks beautiful pond
- 5 adult bikes provided
- Beach chairs and Kayak Rentals available for rent
- Outdoor grill
- Numerous porches, one screened
- Gourmet kitchen, fully equipped kitchen
- Private drive for parking
- Complete Clean Linen Participant - ALL linens, including comforters, laundered upon every checkout
WATERSOUND AMENITIES:
-256 acre private, gated, neighborhood beach community located directly on the Gulf of Mexico between Seaside and Rosemary Beach
- Puttering Park (18 hole putt-putt course)
- 2 community pools
- DuneSider Grill serving lunch poolside in the summer season
- Bike and Kayak Rentals
- Walking paths and Meandering Boardwalks throughout community
- Fitness center (fees applicable)
- Camp Creek Lake - one of the world's few natural coastal dune lakes
- 30 minute drive from Destin or Panama City
- Just a bike ride away from Seagrove, Seacrest, and Rosemary Beach
Golf Carts: IMPORTANT INFORMATION BELOW.
- Unfortunately due to HOA rules the guest will not be able to rent golf carts and will not be able to bring their own golf cart.
- If the home you are renting has a golf cart provided by the owner then please be aware of the golf cart rules and regulations.
- Renter's will be required to provide the proper insurance and driver's license information at the WaterSound Gatehouse upon arrival or YOU WILL NOT BE ABLE TO USE THE GOLF CART.
- Lastly, if a person without a valid driver's license is found to have operated the golf cart provided, or is found driving in a reckless manner then the guest will be fined a $750.00 charge to the account provided on the reservation.
Rate Table
Daily
Weekly
Aug 22nd, 2015 - Sep 4th, 2015
-
$3,675
Sep 5th, 2015 - Oct 16th, 2015
-
$3,675
Oct 17th, 2015 - Nov 20th, 2015
-
$2,400
Nov 21st, 2015 - Nov 28th, 2015
-
$2,900
Nov 29th, 2015 - Dec 18th, 2015
-
$2,400
Dec 19th, 2015 - Dec 25th, 2015
-
$2,900
Dec 26th, 2015 - Jan 1st, 2016
-
$2,400
Jan 2nd, 2016 - Feb 26th, 2016
$375
$2,425
Rates do not include applicable tax and fees.
5 Bedrooms
5 ½ Baths
Max Occupancy: 12
WaterSound
House
BBQ Grill
Balcony
Bikes
Cable TV
Carriage House
Coffee Maker
DVD Player
Golf Cart(s)
Golf Course
Gulf View
Heated Pool

Ice Maker
Lake View
Microwave
Near Beach
Nearby Beach
Ocean Kayak
Pack n Play
Patio
Phone
Private Pool
Screened Porch
Shared Pool
Stereo System
Surround Sound
Toaster
Washer & Dryer
Wireless Internet
Specials
Available for Labor Day! Book today, this home won't be available for long!
Average Visitor Rating:
July 2015 Stay
John Zierdt Jr
07/17/2015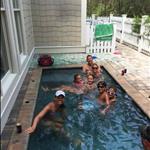 Our extended family of 12, 5 children and 7 adults had a great stay. Our second year and we apprecited all the improvements - backs on lr couches, working freezer and golf carts. St Joes has screwed up the neighborhood. Closed all the boardwalks to bikes and carts due to a lawsuit and could not reserve any blue umbrellas or chairs. We needed 4 sets. They had 0 available all week. Fortunately this great house has it all 7 beach chaiirs, 2 umbrellas, 5 boogie boards and golf clubs and balls for the kids to use at Puttering Park which they did alot. Also 8 bikes & a Kayak. This is the best outfitted house ever. We would love to stay here again but only after St Joes fixes access to boardwalks(It is a long walk carrying chairs umbrellas & Kayak) and stocks enough beach equipment to support everyone. This is the first time ever we have not been able to rent besch equipment.
Property Manager Response:
Looks like a fun pool day at the house! Thank you for all your feedback. We are certainly happy to hear you enjoyed the home again and all it has to offer the whole family! We are just as hopeful that the boardwalks will be reopened soon. We are truly sorry for this inconvenience, but WaterSound and St. Joe is working hard to get these reopened for guests as quickly and as safely as possible. We'd love to have you back again, thank you!!
May 2015 Stay
Mindy Cornille
05/27/2015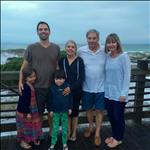 We are having an amazing time in this amazing house!! We have stayed in both Rosemary Beach and Seaside in years past, but have really enjoyed discovering Watersound. It is quiet and beautiful. Our only disappointment was to discover that we did not have access to the Watersound Beach Club. Our favorite things about the home were the dipping pool, the tower room, the porch swing, and golf carts.
Property Manager Response:
Thank you for staying with 360 Blue! We are happy you ventured to WaterSound this year as it has so much to offer the whole family! We hope you all had a fun time at the other awesome community pools In WaterSound! Thank you again and we hope to have you all back here soon!
May 2015 Stay
Sarah Hughes
05/23/2015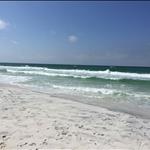 We had a wonderful vacation! The house is beautiful, very well stocked with the essentials. The location is great. The golf carts, bikes and everything were a major plus for us. We had a very minor maintenance issue the first day we were there and someone from 360 was there within 30 minutes to fix the problem. We also had an issue with one of the golf carts and they took care of it immediately as well. Would certainly rent through 360 Blue again and would stay at this house again as well. We were very pleased with everything!
Property Manager Response:
Water looks so inviting! WaterSound is such a great community and we are so glad you enjoyed your time at 72 Yacht Pond! Thank you for reporting your maintenance issues. We are always here to help! Thank you again and we can't wait to have you back!!
Superb!
John Wilson
10/05/2014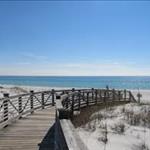 We have been coming to Watersound for the past 3 yrs and absolutely love the location. Stays are always wonderful when the accommodations exceed expectations and this house easily fit our family! Having gotten married during our stay, my side (groom's) stayed in the house and it fit 7 adults and 3 children perfectly. Brand new fridge, newly upholstered patio furniture and the sea kayak were highlights! Not the biggest fan of the lack of parking availability when the construction workers take all the spaces on the street but oh well. We did unfortunately find a previous guest's child underwear and shirt mixed in with sheets in the 2nd floor king bed...pretty disgusting. Stripped the bed and rewashed everything in addition to trashing the clothing. Otherwise, it was a restful and wonderful stay. Great location close to beach access and puttering park. Would I stay again? Absolutely!
Property Manager Response:
Such a remarkable view of the water! Thank you for making 360 Blue a part of such a special day for you and your family. We are happy that the home so perfectly fit your needs. The kayaks must have been great for some honeymoon activities! We are so sorry to hear that you ran into some issues during your stay. We strive for perfection for each and every guest, especially for those important once in a lifetime moments! We hope the construction will soon be completed and this will no longer be an issue. As for the clothing found in the linens, we are extremely sorry to hear that this happened. That is not the typical 360 Blue experience, as we pride ourselves on our clean linen program. This should never had happened and we thank you for making us aware so that me can discuss this with the crew responsible to ensure it doesn't happen again. We are happy that these issues did not put a damper on such a joyous occasion and we hope you'll be back for your anniversary!
August 2014 Stay
Wendy Spanos
08/17/2014
We had a great time and house is beautiful. Wr had the same issues that previous guests had with freezer and apparently nothing has been done. No big deal for us we just bought ice. The golf carts, kayak, boogie boards, chairs, and umbrella were very helpful. Been coming to Wayersound for 6 years but our first time in a home. I really missed the view of the water but overall a great home and choice.
Property Manager Response:
This photo is amazing! The colors of our sunsets never cease to amaze. Thank you for choosing 360 Blue for your summer vacation and for taking a moment to share your experience. We are so thrilled to hear that you enjoyed your stay and hope you'll be back soon!
June 2014 Stay
John Zierdt Jr
06/29/2014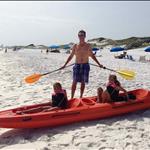 We thought the house was fabulous. Extremely well decorated and filled with great items, dishes, etc. Many bikes and toys for our children. The Kayak was awesome and easy to transport back and forth to the beach. The community was great for children riding around, playing putt putt and visiting the pool and ocean. The wifi worked well but cell phone reception inside the house was awful. 2 golf carts were great until Thursday when a tire blew out and it was never fixed prior to our departure. Same unsafe tire that has been reported for months and ignored. Freezer did not work for ice cream and produced zero ice. Even with these problems our entire family loved the house and community.
Property Manager Response:
Great photo! It looks like you were really able to get the most out of your time on the coast. Thank you so much for choosing 360 Blue for your vacation and thank you for taking a moment share your experience. We do want to let you know that the golf cart tire has been taken care of. We are sorry that this affected your stay and that the place we took it to to for repairs was unable to get it fixed same day. We are also currently gathering quotes to present to the owner to get the freezer/ice maker replaced. We are so glad that these minor inconveniences didn't have a huge impact on your stay, and we hope you'll be back to stay with us again soon!
June 2014 Stay
Brian Duffy
06/17/2014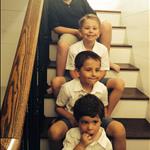 We had a great time at watersound, the kids loved the beach and pool. We had a couple of issues: the refrigator is not working properly, the freezer will not keep ice cream at all, I noticed that a party from Oct 2013 had the same problem. One golf cart had 2 bald front tires, on the last day it went flat. On the positive side the house had all the toys, beach chairs, umbrellas, etc. which was great. We definity enjoyed our vacation.
Property Manager Response:
This photo is precious! Thank you so much for sharing and thank you for your valuable feedback. We sincerely apologize for the issues you experienced during your stay. We will have our maintenance team check into the refrigerator as well as the golf cart tires. The home's property manager will discuss options with the homeowner. We hope you'll be back soon, as we know you will find these to be isolated issues.
May 2014 Stay
Sharon Hodges
06/07/2014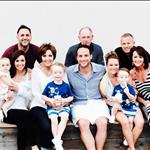 What a great home this was for our whole family!! We loved the location and private beach access! Some concerns were the Wifi connection, cell phones did not work in the house, the conditions of the golf carts were a safety concern, etc.... Thank you again for an amazing stay!
Property Manager Response:
What a beautiful photo of a beautiful family! We sincerely apologize about the issues you experienced during your stay, but thank you for your feedback so that these may be addressed. We know that Mediacom was experiencing some outages during your stay, though we will still check out the router to ensure that isn't the problem. We should also make you aware that cell phones don't work so great in many locations throughout the area during the summer months. (But hey, sometimes it's nice to go a little off the grid during your vacation right?) We have scheduled a tune-up for the golf cart so that should improve its performance. We wish things could always be perfect (and we strive for perfection) though sometimes things just happen. We are so glad to hear that these minor issues didn't put a damper on your stay, and we are looking forward to your next visit!
March 2014 Stay
Matt Drew
04/05/2014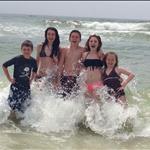 The property was great & we loved the development with pool and beach accessibility. The house is beautiful. Having 2 golf carts was great. And the house was well-equipped with most everything you need. The grill was not the newest. The ice maker did not work well & often without ice. We really love Watersound & would definitely come again.
Property Manager Response:
This truly is a great place for families! By your photo I think it's safe to say a great time appears to have been had by all. We are sorry to hear about the ice maker and we did send a maintenance person out to investigate after your departure, so everything should be functioning properly now. Hope you see you again next year!
October 2013 Stay
Caye Davis
10/16/2013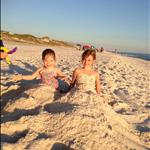 The home was beautiful and very comfortable for the 11 of us. However, we did have some issues that the homeowners need to be aware of. The freezer never worked, we went through three containers of ice cream that would not stay frozen and had to be thrown away. The ice maker never made one ice cube. The wifi was very bad and it was diffucult to make a connection. All of our cell phones would not work in the house, iphones on At&t. It made it very difficult to handle business. We had to walk out in the street to get phone service. The upstsirs rear bedroom was extremely hot. The temp had to be turn down really low to make it comfortable (and still was warm) and it would make the other rooms very cold. Because this same bedroom is in the direct sun a pull drape would make a major difference. Having just recently owned and sold a home in Destin, I'm very conscious of mold issues and there are some areas that the homeowner may need to look into, especially around the air vents in the home. The rental company was
Property Manager Response:
Thank you for leaving us a review of the home. We appreciate your business with us very much. Your feedback is most valuable to us as well. On behalf of the entire team we are sorry to hear that you had issues. We are addressing each and every one in detail and will make sure this isn't a problem for future guest. We were able to research your stay and it doesn't appear you called about the appliance issues. If ever you have troubles with anything while staying with 360 Blue please let us know. We would be happy to address anything that comes up. Thanks again.
June 2013 Vacation
Paul Walker
06/22/2013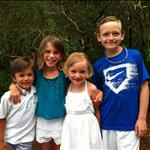 We had a tremendous time. The house was absolutely amazing. 4 Adults and 4 kids ages 5-8 years old. The 2 golf carts were a big hit and the home was very well furnished for cooking and beach needs. The 360 downloadable app was also very helpful before and during our stay.
Property Manager Response:
What a bunch of lil cuties...can the stay with us next time? We are pretty thrilled with the APP as well and are so glad you were able to utilize it just the way it is intended. Hope to see you next year!
May 2013 Vacation
Judy Edwards
05/15/2013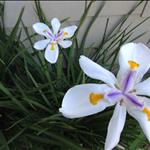 We really liked the house and location. We had some problems due the construction all around us, noise and rodents. Maintenance was very responsive.
Property Manager Response:
Thank you for your review! We are hoping construction is on its way out! Good for the neighborhood but can be a annoying to guest. Thank you again for your review! We hope to have you back next year...construction will be all clear for sure!
March 2013 Vacation
Steven Anderson
04/03/2013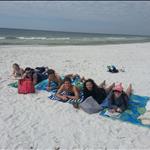 We stayed in 72 Yacht Pond Lane for the second year in a row. We enjoyed our stay but thought the hospitality was better last year. We liked having instructions, codes, rules and notes written out instead of searching for information on an app. Both an app and a print out would be nice. Also the little touches last year like a bottle of wine, notepad, pen, and bottle opener were appreciated but all missing this year. Instead, there was a message buried in the app that to heat the pool would be an extra $25 a day. We noticed last year that the living room furniture was beginning to show signs of wear, but this past year was very hard on the furniture. It is kind of grimy. The bedrooms, bathrooms and kitchen are all still beautiful and in great shape. This was the last year for us to have a high schooler on spring break, but we hope it isn't our last in Watersound
Property Manager Response:
We certainly hope it isn't your last year as well. Thank you so much for your feedback. We have certainly taken care of all of the issues here and this won't be a problem for future guest! We can't wait to have you back to stay with us again. We value the feedback from our guest so much words could never express.
Fill out this form and press the "Send Request" button to receive more information about this property or 360 Blue, LLC.

First Name:
Last Name:
Email:
Phone:
Arrival Date:
Departure Date:
Adults:
Children:
Comments: