81 Watch Tower is a newly redecorated, three story home located in the desired Dune Ridge area of WaterSound Beach. This luxurious home is a must-see, featuring incredible outdoor space great for basking in the Florida sunshine. Enjoy dazzling views of the gulf and picturesque sunsets from the tower or wind down on the covered porch next to the outdoor fireplace in the evening. Both the stunning waters of the Gulf of Mexico and the community pool are mere steps from your door when you stay at this enchanting property.
81 Watch Tower is an impressive home with plenty of room for the whole family. It features three bedrooms plus a bunkroom and sleeps 13 people. Feel like staying in for the night? Watch your favorite movie in the den while the kids escape to the unique hidden room equipped with a TV/DVD player and gaming system. Be sure to check out the plethora of shopping and dining experiences waiting in neighboring Seagrove, Seacrest, and Rosemary Beach!
Book today to enjoy this palace in paradise this season!
SLEEPING ARRANGEMENTS (SLEEPS 13):
- Guest Bedroom, First Floor - King Bed, Access to Shared Bathroom
- Guest Bedroom, First Floor - King Bed, Private Bathroom
- Bunk Room, First Floor - 4 Twin Beds With Privacy Curtains, Access to Shared Bathroom
- Den Area, First Floor - Queen Sleeper Sofa
- Master Bedroom, Second Floor - King Bed, Private Bathroom
- Hidden Room, Third Floor - Twin Sleeper Sofa
HOME HIGHLIGHTS:
- Golf Cart
- 4 adult bikes provided
- Third floor tower with amazing Gulf views, bar sitting area, sink, refrigerator and ice maker
- TVs and DVD players in every bedroom
- First floor den area has 3 mounted flat screen TVs and a kitchenette
- Gourmet Kitchen with Wolf appliances and island seating
- Grill
- Whole home audio system featuring built in speakers, wall mounted controls in several rooms, iPod dock, ability to play music stations from cable and more.
- Complete Clean Linen Participant - ALL linens, including comforters, laundered upon every checkout
WATERSOUND AMENITIES:
-256 acre private, gated, neighborhood beach community located directly on the Gulf of Mexico between Seaside and Rosemary Beach
- Puttering Park (18 hole putt-putt course)
- 2 community pools
- DuneSider Grill serving lunch poolside in the summer season
- Bike and Kayak Rentals
- Walking paths and Meandering Boardwalks throughout community
- Fitness center (fees applicable)
- Camp Creek Lake - one of the world's few natural coastal dune lakes
- 30 minute drive from Destin or Panama City
- Just a bike ride away from Seagrove, Seacrest, and Rosemary Beach
Golf Carts: IMPORTANT INFORMATION BELOW.
- Unfortunately due to HOA rules the guest will not be able to rent golf carts and will not be able to bring their own golf cart.
- If the home you are renting has a golf cart provided by the owner then please be aware of the golf cart rules and regulations.
- If we have not received the proper insurance and driver's license information then YOU WILL NOT BE ABLE TO USE THE GOLF CART
Rate Table
Daily
Weekly
Aug 16th, 2014 - Aug 22nd, 2014
$620
$4,000
Aug 23rd, 2014 - Sep 5th, 2014
$620
$4,000
Sep 6th, 2014 - Oct 17th, 2014
$555
$3,600
Oct 18th, 2014 - Nov 21st, 2014
$465
$3,000
Nov 22nd, 2014 - Nov 28th, 2014
$540
$3,500
Nov 29th, 2014 - Dec 19th, 2014
$465
$3,000
Dec 20th, 2014 - Jan 2nd, 2015
$540
$3,500
Feb 28th, 2015 - Mar 6th, 2015
$525
$3,400
Mar 7th, 2015 - Mar 13th, 2015
-
$5,150
Rates do not include applicable tax and fees.
4 Bedrooms
3 ½ Baths
Max Occupancy: 13
WaterSound
House
Balcony
Bikes
Cable TV
Coffee Maker
DVD Player
Golf Cart(s)
Golf Course

Gulf View
Ice Maker
Microwave
Near Beach
Nearby Beach
Pack n Play
Patio
Shared Pool
Stereo System
Surround Sound
Toaster
Washer & Dryer
Wireless Internet
Average Visitor Rating:
August 2014
Michael Hogstrom
08/03/2014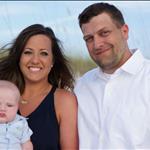 We absolutely loved the neighborhood of Watersound. Bella Vista is an amazing house that lives well for entertaining a large group of people at the beach. We had 10+ most of the time during our 8 day stay and everyone was very comfortable. Our only complaints were the wifi, cable tv, and the golf cart. Unfortunately, all 3 of those items were of high value to our group considering entertaining kiddos, exploring 30A, transporting to/from beach, and being able to get some work done remotely. 360 did their best to resolve these issues, but alas, all were consistent problems for most of the week. We would definitely use 360 again and stay in Watersound again, but probably not Bella Vista house. Overall, our experience was a 9 out of 10. Thank you 360!
Property Manager Response:
What a beautiful family! Thank you so much for choosing 360 Blue and for taking a moment to share your experience. This truly is a beautiful and amazing home. The owner has spared no details to make this the ultimate beach getaway. We apologize for the inconveniences you experienced during your stay. Unfortunately, we had a number of cable/internet outages in the area the week of your stay. It would seem there was some sort of issue on the provider's end. We are happy to report the that the golf cart has been completely repaired. We hope you were able to enjoy the rental golf cart in the meantime. We would love to have you back! Give us a call whenever you are ready for your next beach escape! Maybe even give Bella Vista another shot. This truly is a fabulous home and we're confident that there will be far less kinks to iron out next time.
July 2014 Stay
Curt Crozier
07/28/2014
This is the second year we have stayed at this house. It is a beautiful house. We had a few maintenance issues that were unable to be resolved. The internet rarely worked (and like last year, the internet name was listed incorrecty on the 360 Blue app). The golf cart also moved VERY slowly. Both issues were addressed by maintenance but never got resolved. That being said, we would consider staying there again if these issues were fixed permanently.
Property Manager Response:
What beautiful girls! We love to see those smiling faces enjoying this enchanting area and our comfortable homes. Thank you for choosing 360 Blue for you family vacation and for taking a moment to share your experience. We sincerely apologize for the inconveniences your experienced during your stay. We are happy we were able to get the modem quickly replaced so that you could go about using this service. The owners are currently looking into boosters for the wifi to help the signal throughout the home. Though, unfortunately during high-volume times of year, the local provider does sometimes struggle area wide. We are sorry about the slow golf cart. During your stay we did discover that the batteries were not keeping a charge and thought we could fix the problem with new batteries. Since you reported it was still slow, we have since taken the cart to the shop and had it fully repaired - no more lagging. We hope you'll be back next year for a third stay. We're sure it will be a much smoother stay.
August 2013 Stay
karen lahvis
08/24/2013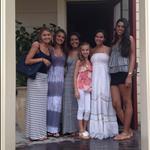 The house is gorgeous and so well layed out for a large family vacation! Loved having music in every room and all the kids were able to stay on the first floor and give the parents some quiet upstairs. The golf cart was a lot of fun (and convenient) as well. Can't wait to come back!
Property Manager Response:
Thank you for your lovely review....what a great looking bunch of ladies!!! Come back soon!
August 2013 Stay
Cindy Welch
08/09/2013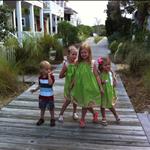 We loved your home... It was perfect for the 10 of us.. The 4 grandchildren loved their room with the bunkbeds & T V's.. We were happy with the 5 min walk to the beach or pool.. Thanks again for a most memerable vacation !
Property Manager Response:
What a cute bunch....hopefully you will bring these adorable faces back to see us!
July 2013 Stay
Curt Crozier
08/02/2013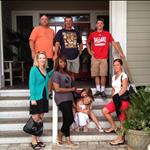 Gorgeous home and beautiful decor. It was perfect for our vacation. It's a 5 minute walk to the beach and 3 minute walk to the pool. It was perfect!
Property Manager Response:
Thank you for sharing your vacation experience with us....We can't wait to have you back at the beach!
June 2013 Vacation
Cayenne Goodman
07/13/2013
Beautiful home. Perfect for us and the kiddos! Will be back next year!
Property Manager Response:
Thank you so much for your review...we can't wait to have you back to make more Beach Memories!!!
Fill out this form and press the "Send Request" button to receive more information about this property or 360 Blue, LLC.

First Name:
Last Name:
Email:
Phone:
Arrival Date:
Departure Date:
Adults:
Children:
Comments: