Plan your next unforgettable beach vacation at this brand new 4 bedroom, 3.5 bathroom home in the Nantucket inspired neighborhood of WaterSound West Beach. This abode features an open kitchen and living area that is ideal for entertaining family and friends. The perfect spot for a game of Frisbee or lazing around with your favorite book happens to be right behind your back yard in Horseshoe Park. After a long day at the beach, cool off on one of the furnished screened in porches or take a dip in the zero-entry community pool. Premium shopping and dining can be found in neighboring Seaside and Rosemary Beach.
**Please note: Minimum stay of 7 days required**
SLEEPING ARRANGEMENTS (SLEEPS 11):
- Master Bedroom, Second Floor: King Bed, Private Bathroom
- Master Bedroom, First Floor: King Bed, Private Bathroom With Shower Only
- Guest Bedroom: Queen Bed, Private Bathroom
- Bunk Room: Twin Over Queen
- Loft Area, Second Floor: Queen Sleeper Sofa
HOME HIGHLIGHTS:
- 4 adult bikes provided
- Brand New Construction
- Professionally Decorated
- 2 Master Suites
- Open Kitchen and Living Room Area
- Screened in Porches off the Kitchen and the Master Bedroom
- 55" Flat Screen TVs In Every Bedroom
- Theater System In the Living Room With a 65" Apple TV
- 50" Flat Screen In Second Floor Loft Area
- Bunk Beds Each Have Their Own TV
- Xbox Gaming Station In Upstairs Sitting Area
- Complete Clean Linen Participant - ALL linens, including comforters, laundered upon every checkout
WATERSOUND WEST AMENITIES:
- 256 acre, private, gated neighborhood beach community located directly on the Gulf of Mexico between Seaside and Rosemary Beach
- Beautiful zero-entry neighborhood pool featuring cabanas, outdoor grill and fireplace
- Horseshoe Park
- Bike and Kayak Rentals
- 9 hole putt-putt course
- Boardwalk that winds through the neighborhood to the beach
- Direct access to beach (no streets to cross or steep stairs to climb)
GOLF CARTS: IMPORTANT INFORMATION BELOW.
- Unfortunately, due to HOA rules, guests are not permitted to rent golf carts and will not be able to bring their own golf cart.
- If the home you are renting has a golf cart provided by the owner, please be aware of the golf cart rules and regulations.
Rate Table
Daily
Weekly
Aug 23rd, 2014 - Sep 5th, 2014
-
$1,525
Sep 6th, 2014 - Oct 17th, 2014
-
$1,225
Oct 18th, 2014 - Nov 21st, 2014
-
$825
Nov 22nd, 2014 - Nov 28th, 2014
-
$1,200
Nov 29th, 2014 - Dec 19th, 2014
-
$825
Dec 20th, 2014 - Jan 2nd, 2015
-
$1,200
Feb 28th, 2015 - Mar 6th, 2015
-
$1,575
Mar 7th, 2015 - Mar 13th, 2015
-
$2,800
Rates do not include applicable tax and fees.
4 Bedrooms
3 ½ Baths
Max Occupancy: 11
WaterSound
House
Bikes
Cable TV
Coffee Maker
DVD Player
Golf Course
Ice Maker
Microwave

Near Beach
Nearby Beach
Playstation 3
Rates Starting At $160/Night
Screened Porch
Shared Pool
Stereo System
Toaster
Washer & Dryer
Wireless Internet
Xbox 360
Xbox Kinect
Average Visitor Rating:
June 2014 Stay
Robyn Davis
07/21/2014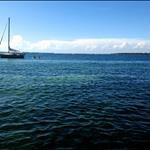 We loved the house! It was beautiful and had absolutey everything we needed. Everything was perfect. We will definitely return.
Property Manager Response:
We have to just start off by saying WOW! This photo is amazing! This truly is a lovely home and a fantastic place to just get away from it all. Thank you so much for staying with 360 Blue and thank you for taking a moment to share your experience. Nothing makes us happier than a happy guest. We hope to see you at the beach soon!
July 2014 Stay
Nikki West
07/20/2014
This place was awesome. Nice bike ride to the beach with amazing views and perfect landscaping. The beach was beautiful and calm not overrun by the "wild crowd". I enjoyed my stay and would definatly come back.
Property Manager Response:
But first, let me take a selfie! As far as selfies go, this one is pretty epic. We just LOVE it! You really can't beat this serene peddle to the beach. We are so happy to hear you enjoyed your stay and we would love to have you back!
July 2014 Stay
Jessica Rutledge
07/19/2014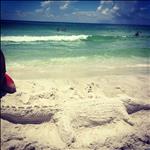 Beautiful home - top of the line everything. We enjoyed the porches, the bikes and the kids loved having their own TVs on the bunks. The pool and beach areas were never crowded. The home is a 3-5 minute bike ride to the pool, and another 3-5 minutes to the beach. Very beautiful boardwalks to beach access. Definitely bring or rent a bike trailer if you have little ones that aren't bike savy. It will be a lonnngggg walk without it.
Property Manager Response:
Awesome sand gator! Looks like you guys definitely enjoyed some fun in the sun! You simply could not ask for a better or more enjoyable route to the beach making every beach trip amazing before, during and after the actual time spent at the beach. We are so thrilled that you had an enjoyable stay and we hope you'll be back for may more!
May 2014 Stay
Nancy Blackmon
06/06/2014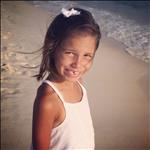 The house was beautiful! Close to shopping and great restaurants. Amenities are top notch. We would absolutely stay here again!
Property Manager Response:
It certainly looks like someone had fun at the beach! This really is an absolutely beautiful property with no details spared by the owner. You are definitely right about the location being so close to everything you need, yet peaceful and quiet when you just want to get away from it all. We are so thrilled that you enjoyed your stay and we can't wait to have you back for your next beach adventure!
September 2013 Stay
Brad Logan
05/10/2014
I spent a long weekend at this house in September 2013 along with four other friends. I felt like I was in someone's home rather than a standard rental property. There was plenty of space (bedrooms, bathrooms, etc) and it was very comfortable. The kitchen is well equipped with everything you need. We loved the fact that there was a pool in the neighborhood since we didn't go to the beach every day. The neighborhood was quiet and safe. We will definitely rent this property again!
May 3, 2014
Brad Logan
05/10/2014
We will be coming back here! Beautiful home, great area close to Panama City, Destin and easy walk to beach. Nice big pool and yet quiet. Loved the big TV's in all the rooms, especially in the bunk beds and the 65 inch in the living room was great to watch NBA playoffs!
Property Manager Response:
Love, love, LOVE your photo! Absolutely gorgeous! Thank you so much for sharing! This truly is such an amazing place to enjoy the area - convenient to everything yet quiet and comfortable. All the little details were attended to at this home making it the ultimate home away from home. Can't wait to have you back!
March 2014 Stay
Brad Logan
05/10/2014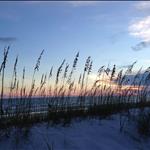 Great home! We loved the two back decks and especially the bed swing! Furnishings are top notch and very comfortable. Location is excellent with huge pool but in quiet neighborhood. Definitely looking forward to returning!
October 2013 Stay
Joanie Jackson
10/13/2013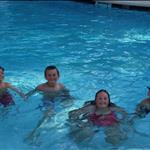 The house is beautiful, comfortable, and very clean. It had everything that we needed. It is a great layout for 2 families to share - our friends joined us at end of the week. We were a little disappointed by the construction that is right next door to this location. It did not allow for lazy mornings as the sounds of hammering served as our alarm clock most of the week. The beach & pool are bit of a hike from the house but bikes made it fun and convenient. 360 Blue cocierge was very prompt in coordinating bike rentals & tee times.
Property Manager Response:
Thank you for sharing your feedback and adorable photo! We are sorry to hear you were disappointed in the construction/ It is very important to the area for growth but the process can certainly be an annoyance to our visitors. This should be mostly cleared up by the same time next year. Hopefully you will come back to see us! Maybe we can leave that alarm clock out this time!
Fill out this form and press the "Send Request" button to receive more information about this property or 360 Blue, LLC.

First Name:
Last Name:
Email:
Phone:
Arrival Date:
Departure Date:
Adults:
Children:
Comments: